Benefice Walk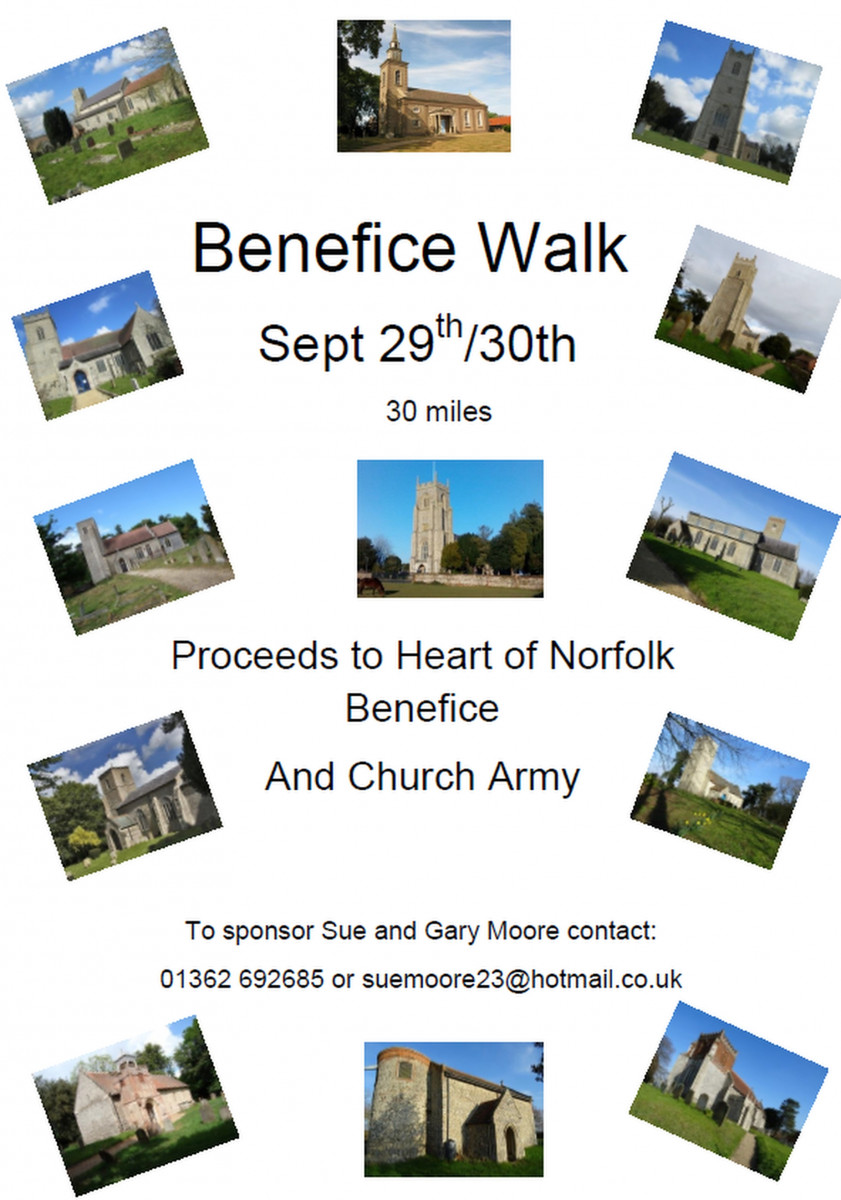 Gary and Sue Moore who run 'Our House' in Mattishall (see this link for further info Our House) are part of the Church Army. September has been dedicated as 'Church Army September' when they plan to celebrate what the Church Army are achieving alongside local churches. As part of these celebrations they are encouraging people to fundraise and raise awareness of Church Army.
Church Army is a mission focused community within the Anglican Church comprising both lay and ordained people. (Some might say the Church of England's best kept secret!). Existing since 1882 our mission is to transform communities through faith shared in words and action often in the poorest parts of the country.

Locally there are 2 centres of mission in the Norwich Diocese, Redenhall and King's Lynn headed by Evangelists seeking to bring the good news of Jesus through social outreach projects to people who otherwise would be unlikely to ever enter a church building.

'The journey' is a the Church Army's September fundraising initiative where people are invited to go on their own personal journey raising sponsorship and awareness of Church Army as they go. The aim is for 500 people to raise £100 (£50 000) which will fund 2 new centres of mission for a year www.churcharmy.org.uk

Inspired by the launch of the Heart of Norfolk Benefice Guide Sue and Gary thought they would like to walk to all 13 churches in the Heart of Norfolk Benefice. The walk will take place over 2 days 29th & 30th September and any sponsorship would be split between the Benefice and Church Army.

Others are very welcome to join Sue and Gary on various stages of the walk if they wish to provide some moral support as well as sponsorship!
The proposed timings are given below:
29th September:
Start from North Elmham at 8am
Worthing 8.40
Billingford 9.30
Bawdeswell 10.30
Foxley 11.15
Themelthorpe 12.15
Guestwick 1.45
Foulsham 2.45
Bintree 3.45
30th September:
Start from Bintree at 9am
Twyford 9.30
Guist 10.00
Wood Norton 11.00
Stibbard 11.45
Great Ryburgh 12.30
North Elmham 3.00
If you would like to sponsor Sue and Gary please complete a sponsor from available in any of the churches or contact them directly on 01362 692685 or suemoore23@hotmail.co.uk