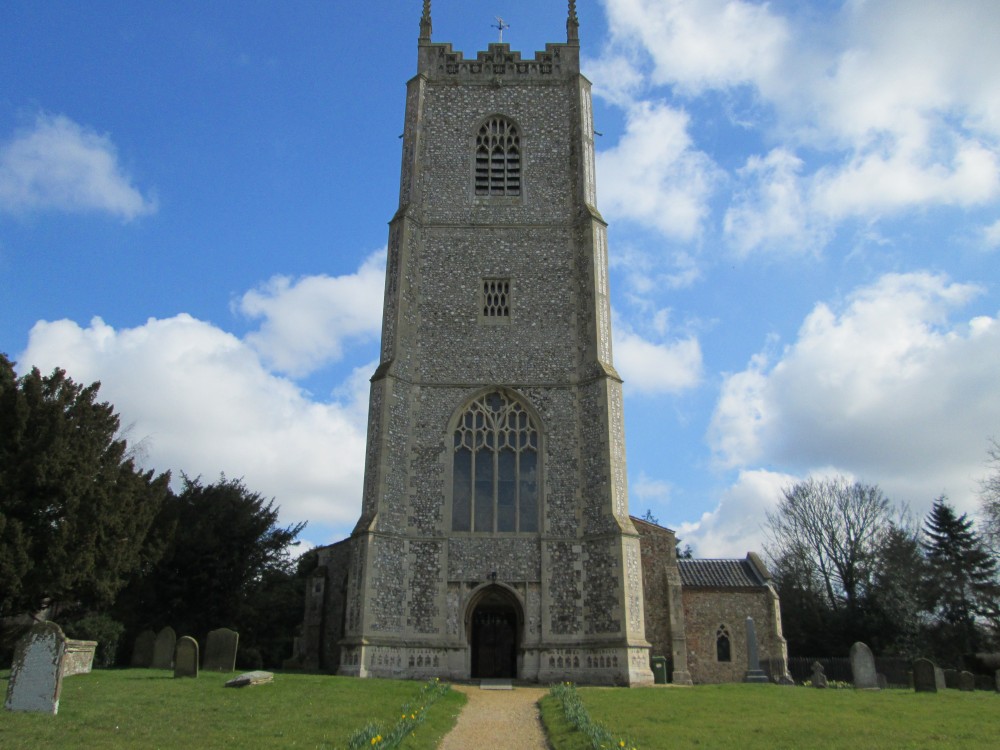 Holy Innocents, 4 Hindolveston Road, Foulsham, Norfolk, NR20 5SF
(Sparham Deanery)
Grid Reference TG 032251
Churchwarden: Karen Hambrook 01362 683617
PCC Secretary: Colin Ferris colin.ferris@hotmail.co.uk
PCC Treasurer: Sue Hendry
Built from flint, random rubble, ashlar & render with pantiled roof, it is a Church on a large scale; the imposing West Tower is about 90 feet high. The late 15th century Nave has North and South aisles, with the Chancel dating from the mid-14th century.
Listed in the Doomsday Book of 1085, Foulsham's name derives from 'sham' (for home) and 'foul' (for bird).
In World War II, Number 100 Group RAF was based at Foulsham. They were a special operations unit flying bombers like the Handley Page Halifax and the deHavilland in electronic warfare missions. The descendants of those servicemen still return annually to the Church to lay wreaths, and in February 2015 they planted a tree of remembrance.
Services and Music
The main days of worship are Sundays although the village primary school use the church for the occasional service and there has more recently been well attended music evenings. An organist is present on most Sundays.
Access
The village is just off the A1067 to the East of Bintree and Twyford, with a number of attractive 16th and 17th century buildings. Holy Innocents lies at the North end of the village on the road leading towards Hindolveston. The Church is normally open from 9am until dusk.
Facilities