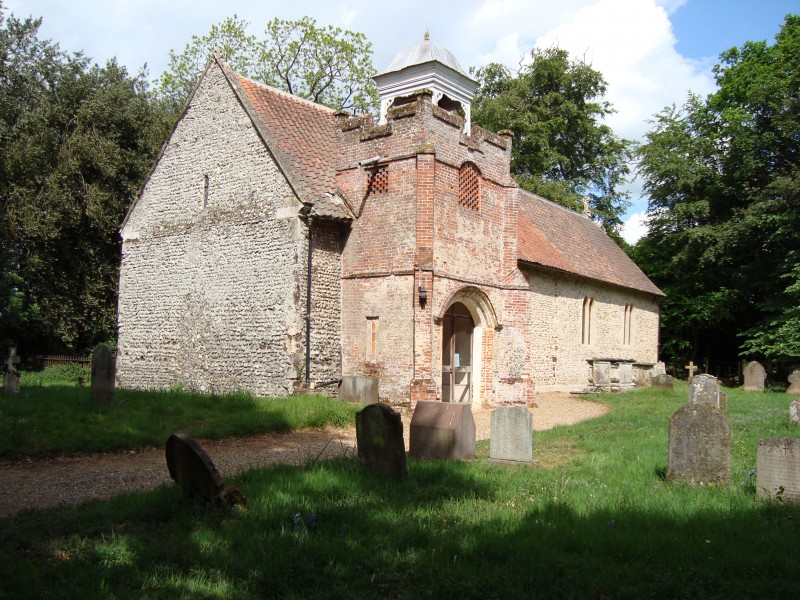 Saint Nicholas, Norwich Road, Twyford, Norfolk, NR20 5LY
(Sparham Deanery)
Grid Reference TG 016246
Please contact the Benefice Office 01362 668850
Click here for more photographs
Built of flint, conglomerate, brick and limestone, St Nicholas' nave is Saxon or early Norman. The window in the West wall is 11th century. The Chancel and Font are Early English, around 13th century. The Tower and South porch are in brick and flint and are dated 1732. The 19th and early 20th centuries saw re-modelling and restoration take place including the Chancel Screen and Reredos.
The churchyard has many interesting and fine tombs from the 17th, 18th, and 19th centuries.
Future plans
When the quinquennial inspection was carried out in 2009 numerous defects were identified with the roof covering, over the chancel and nave, culminating in a list of urgent repairs. We are trying to get an English Heritage grant to help with this work. During each year we have several fundraising events to try and meet our annual running costs.
Access
St Nicholas lies largely hidden behind trees on the Eastern side of the main Norwich to Fakenham Road A1067 just on the Northern edge of the village. There is off-road parking in the layby immediately outside the Church which is most easily turned into from a Norwich-bound direction. The village itself is very small (a little over 500 acres with around just 30 residents) and is located on the Western side of the main road. Consequently, the Church is open only for services and special occasions.
Outside of Sunday Services, a key may be obtained to gain access to the Church. Please contact George Paris (Churchwarden) on 01362 680010, or Wilhelmina van Beuningen on 01362 683228.
Facilities