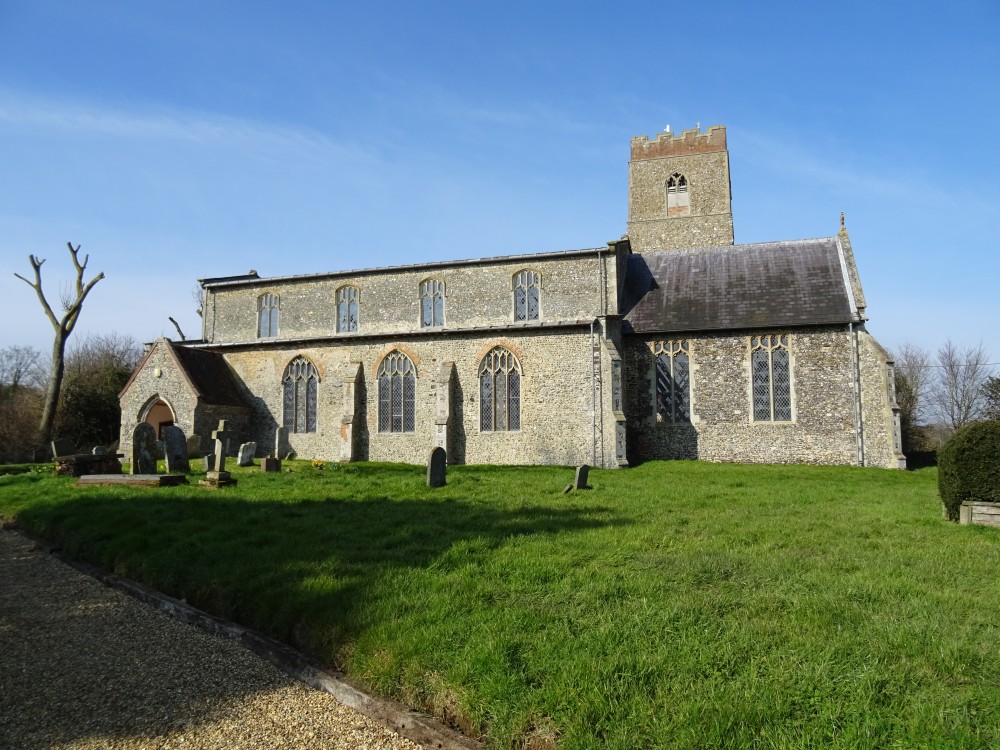 St Peter, Chapel Road, Guestwick, Norfolk, NR20 5QH (Sparham Deanery)
Grid Reference: TG 061269
Contact: Revd Sally Kimmis 01362 668850 heartofnorfolkchurches@gmail.com
Only the Tower remains of the small Saxon Church, although its belfry stage and parapet were added later. It appears that the Church was initially rebuilt around 1200 and was then substantially rebuilt again including the Font in the 15th century. An unusual flight of steps in the North aisle originally led to a loft above the Rood Screen. It has become primarily known for the very unusual location of its Tower which is now on the North side of the Chancel.
For many years, Guestwick was part of the Heydon Estate and consequently several members of the Bulwer and Bulwer-Long family are interred in the Church.
The large West window in the Nave was completely restored in 1854. The medieval stained glass in the South aisle was restored from fragments after storage in Norwich during World War II. Expertly crafted especially for the Millennium by a resident of the village is a delightful modern stained glass window in the North-West corner of the Nave. Together the monumental brasses here form one the best collections in the county.
Currently, St Peter is linked to the WiSpire network providing a reliable broadband connection to the village and surrounding countryside.
Access
St Peter stands at the main road junction in Guestwick, a small village which is East of Guist and Wood Norton and North-East of Foulsham. The Church is normally unlocked during daylight hours.
Facilities